United Micronationals is a international union formed by the Micronationals Community. Its aims include accelerating economic growth, social progress, sociocultural evolution among its members, protection of regional peace and stability, and opportunities for member countries to discuss matters peacefully.
In recent years it has taken up the issue of war in Marrskar & United Islands. It has also spearheaded talks between the Woodlands Republic & Microland.
Members
Security Council
Actions taken in Conflict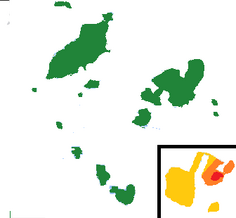 United Micronationals have not issued many documents on safety in the Fennoscandian area but has said "The status of the so called 'East Marrskar War' is very blurred. We are unsure of conflict in the area."
A map was issued to those in the area and blatantly claims no conflict resolves in the Aland Area. Possible conflict although exists in a area downtown Syeat. No peacekeepers have been sent as it has been deemed unnecessary.
National Safety Rankings
Closer to 5/5 the safer.
Active micronations
Pos. (prev. pos.)
Flag/Name
Ranking
Change[1]
Reason
1
Bombardos

4.0

-1.0

Past coups and changes of government.
2 (1)
Taipan

4.2

+0.0

Instability with authoritarian figures.
3 (3)
Brändholmer Republic

4.5

-0.2

Instability relating to president's departure from micronationalism.
4 (2)
Berlonia

4.6

+0.0

Zika outbreak effects Berlonia although only minor.
5 (4)
United Republic

4.9

Past wars.
6
Apia

5.0

+0.1

No safety concerns.
Martallt

+0.0

Marrskar
Defunct micronations
| Pos. | Flag/Name | Last ranking | Reason |
| --- | --- | --- | --- |
| 1 | Patagonia | 2.8 | Unrest and civil war relating to military junta's actions. |
UM National Assembly Feb 8 2016
Attendees
Members
Observers
Defense Policy
A new policy brought up by President Eoghan was that all UM nations have their militaries (if any) checked for security reasons. All nations attending agreed.
Intervention in Marrskar
The UM decided to intervene in the Marrskar Conflict although not have a militant stance on the situation. Diplomatic talks & peacekeepers will hopefully be used to settle this conflict.
Zika in Berlonia
A proposed charity set up sees over £200 worth of funding to be given from UM members to Stop Zika and find a cure for it quicker.
Patagonian Intervention
Patagonia was question on it's treatment of Political Prisoners within the country. Not many details were given afterwards of these Political Prisoners and what state of living they are facing.
References
<references>
↑

As in the difference between previous rankings of this nation