The Federation of Westland (English)

Федерация Вест Эападземля (Pусский)

---

| | |
| --- | --- |
| Flag | National Emblem |

---

Westland on the left

---

| | |
| --- | --- |
| Anthem | |

---

Free Nation, Fair Nation!

---

Location

Former Kaliningrad Oblast

Capital city

South Kaliningrad (claimed), Baltysk (acting)

Largest city

Baltysk

Official language(s)

Russian, German, Polish,

Official religion(s)

Orthodoxy, Standardism

Short name

Эападземля (Westland)

Westlandic

Government

Transitional Council

- Head of Council

Ivan Rosnikov

- Minister of Defense

Ema Koenig

- Legislature type

Council

Established

Population

5-6 (not counting refugees in Russia and FRSH)

Density

Not calculated

Currency

Westlandic Rubles

Eastern European Time (EET) UTC+02:00)
Westland (Pусский: Эападземля), officially the Federation of Westland is a federal-type government, with a low power 20 seat Duma. It is currently a rump state, taking up 3% of its claimed territory (the rest is occupied by Socialist Westland and Russia)
Military
Currently the military of The Federation of Westland is mostly an un-organized militia designated to protect the nation with one organized spetsnaz group meant to support the militia. Currently reforms organized by the Duma are under Presidential review before being made official. These reforms will attempt to create a more organized military with multiple branches including a new concept of a specialised branch meant to find citizens and supporters of Westland. The military in Westland is considered a high priority as over the years Westland has made many enemies and it's current status as a "seperatist nation" may spark conflict with Russia in the future despite Westlandic hopes of continued friendship while retaining independance, despite lack of funds for military weaponry, vehicles, and installations standard issue uniforms have been created as well as vehicles that have been cleared for use and land designated for military development.
Armor
rer==Politics==
Governance
According to the current constitution of the Federation of Westland is a Federation of 6 Oblasts, and 2 special administrative territories, however most of the former land is controlled by the socialist counterpart.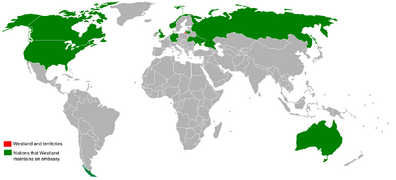 Foreign relations
The Federation of Westland has become a rump state from what it had formerly been after the Westlandic civil war. And was saved partially by the Cease-Fire.
Economy
The Westlandic economy is nearly non-existant since the Civil War, however some trade has been conduction with Russians, and FRSH. Parties
| Name | Logo | Founded | Ideology | Position | Duma Seats | Leader |
| --- | --- | --- | --- | --- | --- | --- |
| Nationalist Party | | 2009 | Conservativism, Nationalism | Right | | Ivan Rosnikov |
| Socialist Progressive Party (exiled) | | 2010 | Socialism | Left | | Ernest Abel |
| Peoples Party of Westland (exiled) | | 2010 | Communism | Far Left | | Sasha Kaspersky |
| Royalist Party | | 2014 | Monarchism | Right | | None |
| Nordic party | | 2015 | Unionist | Right | | None |
Community content is available under
CC-BY-SA
unless otherwise noted.